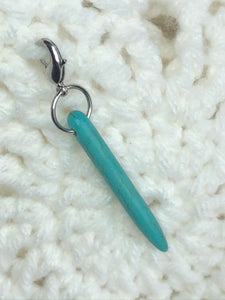 A simple marbled teal-colored spike-style stitch marker - perfect for someone who does not want an obtrusive marker. 
This comes on a 12 mm lobster claw, and the spike itself measures 1.5" in length. It is very lightweight and won't stretch most yarns!
If the attachment you're interested in is sold out or not listed, please contact me! I am able to accommodate most requests for ring size (10-12 mm depending on metal color) or lobster clasps (12 mm - 15 mm - 23 mm).