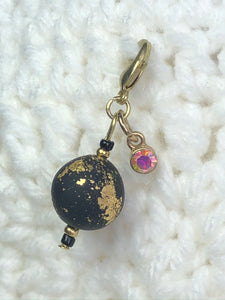 This handmade stitch marker features a handcrafted black and gold-colored bead, with an attached crystal charm. It comes attached to a 12 mm lobster clasp. It is lightweight and won't stretch most yarns!
Please note: Each bead is handmade and may differ slightly in mottling, size and shape. Beads are approximately 0.4-0.5 inches in diameter. Stitch markers weigh 2-3 grams.
If the attachment you're interested in is sold out or not listed, please contact me! I am able to accommodate most requests for ring size (10-12 mm depending on metal color) or lobster clasps (12 mm - 15 mm - 23 mm).